What are the top five improvements in children?
The majority of children who complete Interactive Metronome training at Thrive Academy enter the program because they are struggling academically at school. What that looks like is different for each child. As they progress through the training, the top five changes reported by parents and children are as follows:
Homework takes far less time to complete
The child says "I get it" when given lessons in areas of struggle
Physical coordination improves
Articulation improves for those with speech difficulties
The child displays less anxious behaviour
Read more … What are the top five improvements in children?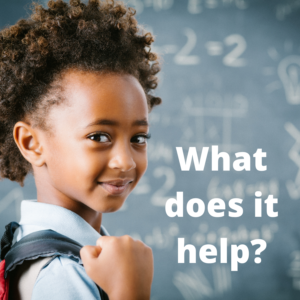 Timing Issues
Have you ever watched a movie in which the audio and the video were not properly synched? Even a slight glitch in the timing can be incredibly distracting. Even the slightest delay in temporal processing in the brain can be similarly distracting. Imagine these scenarios:
You are playing baseball and are up at-bat. You watch the ball coming towards you and get ready to swing. Timing that is too slow or too fast, either in processing the information from your eyes or sending signals to your muscles will result in a swing and a miss.
You are engaging in a conversation with friends. The conversation is lively and you are keen to contribute. Your brain takes slightly longer than average to process what your friends are saying, so each time that you try to jump into the conversation at a natural lull, you find that you've missed your chance. You are a few beats behind, and someone else is already talking. Your friends assume that you don't have much to say (or accuse you of constantly interrupting).
You are navigating a busy classroom. You are receiving information from your five senses but the sights and sounds are not lining up, You are doing your best to understand what is happening around you, but it feels overwhelming. Your classmates seem perfectly calm, but you feel yourself headed towards another meltdown.
Your teacher is giving a lesson about syllables, but it all just sounds like a string of noise to you. Your classmates seem to be able to pick out individual sounds and syllables, but everything is going so fast, you're not sure how they do it. You wonder if you just aren't very smart.
You are playing soccer and the ball is coming towards you. You pull back your foot and get ready to kick. You're excited to see if you can score, but somehow you just don't connect with the ball – it has already passed you when your foot extends.
In all of these cases, we are seeing poor timing in action. In a well functioning brain, messages are sent and received in a synchronized fashion. The science is complex, and the effects of poor timing are substantial for children who struggle at school. It may seem like an unsolvable problem, but there is hope. Interactive Metronome is an evidence-based training and assessment tool that can be used to obtain significant improvements in real-world performance within months. Because timing deficits can affect a variety of brain areas, Interactive Metronome training can result in improvements in a huge number of areas. This is one example of a treatment that sounds too good to be true, but that holds up when tested across many different populations.
Pediatric users have reported improvements in many challenge areas including the following:
Academic performance
Social interaction
Organizational skills
Self-confidence
Attention and concentration
Impulse control
Working memory
Processing speed
Auditory and language processing
Responsiveness to auditory stimuli
Speech and reading fluency
Ability to follow directions
Balance and coordination
Behaviour and self-esteem
It isn't obvious on the surface, but all of these things come down to timing!
Complete our checklist to see if Interactive Metronome is right for your child.
Intensive Interactive Metronome
To achieve lasting brain change with Interactive Metronome, it is necessary to practice intensively and with sufficient repetitions for the brain to learn and retain efficient temporal processing. As such, after an initial assessment, we design a program that is tailored to your child's interests and that can be completed over a period of several months. Users train 3 times per week (40 minutes per session) in a clinical setting for 5 weeks after which their timing is reassessed over 14 measures. Most clients require 2-3 intensive blocks of Interactive Metronome. The second and third block may be completed at home if desired or can be done in the clinical setting.
There are only 8 spots available in each intensive block. Call today to set up your initial assessment!
Cost
Initial Timing Assessment: $150
15 Session Intensive: $1500
Infection Control
To provide for maximum infection control, we are only offering Interactive Metronome in a clinical setting at this time (home visits are no longer available). Families who have completed one Intensive become eligible to purchase a home unit if they prefer to train at home once the child is well established in the program.
All clients will have their own dedicated headphones and gloves, and the remaining equipment will be disinfected between users. To keep client numbers low, we will only be offering intensive training opportunities to 8 children during each intensive. COVID-19 self-assessments are completed before each appointment and families are asked to reschedule in the event of illness. All staff and visitors in the clinical space are asked to wear a mask at all times.
Testimonials
I've noticed an unexpected and very welcome improvement since beginning Interactive Metronome training: I can now complete multiple conference calls, and I no longer get headaches or have to stop to rest between calls. I thought that headaches and exhaustion were just natural side effects of using technologies like Zoom. When I did the initial… Read more "No more Zoom fatigue"